We are seeing some amazing fixed interest rates at the moment and I believe now is the time to fix long term. Below I explain the reasons why and give you some methods to help with your own decision making.
There are two ways to make decisions about which interest rate is best for you:
Option One -
Try to predict what the market is doing and where interest rates will go in the future
.
This is fraught with danger given the variability in world money markets over the last 10 years. When making predictions I think back to a conference I attended in 2009 where Cameron Bagrie spoke.. He proudly addressed the crowd and told us that he had predict 16 of the last 28 Official Cash Rate changes correctly, better than average but nowhere near perfect. I thought to myself that if the Chief Economist of Australasia's largest bank can't confidently predict interest rates then what chance does the average mortgage holder or even myself have of being perfect.
If you are going to try to predict interest rates then I like to follow the model below. This involves fixing long term at the bottom of the interest rate cycle, fixing short near the top and floating while interest rates decrease. With historically low interest rates I believe we've got to be near the bottom and fixing long term has got to be the best option.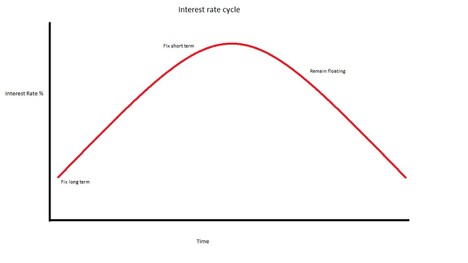 Option two -
Identify the best option for your personal situation.



I personally prefer this option and this is the method I use when discussing the best loan structure and interest rate options with my clients.
If you are on a fixed income with a fixed budget then getting long term certainty is going to be the best thing for you. If you don't see that situation changing for a certain amount of time then fixing your interest rate for that time is a great idea.
A lot of loan products now will allow you to make lump sums or increase payments, even on a fixed loan, so fixing for a longer term should not hinder your ability to change things too much. We can advise on which lenders and which products best allow you to do this.
With interest rates so low at the moment, most people will benefit from getting some long term certainty. However, we always recommend discussing your personal situation with us as a balance of different fixed terms or a portion in a floating/revolving account could be the best option for your specific situation.
Let us help you to get the right term and the right lender so that you can pay less interest and pay your Home Loan off faster.
Contact Adam and the team at New Zealand Advice Group to get advice on the best option for you.
www.nzadvicegroup.co.nz
adam@nzadvicegroup.co.nz